How it al begun…
It all started with little Mechko (means Bear in Bulgarian). Right before Bansko closed down due to COVID-19 some lovely people found a little puppy making sounds on the side of the street somewhere in the old town. Being alone, eyes still closed and very vulnerable these sweet people decided to take him home to sort out a solution for the little puppy who could never survive on his own.
They contacted Sarah O'Neill through the Bansko Notice Board after they explained their situation and need for help Sarah decided to fetch the puppy and take care of little Mechko. Sarah, who you might know as one of the awesome DJ's of Bar 360 at the Bansko Winter Market, has years of experience with dogs and set-up various street dogs projects in other countries.
Little Mechko (probably a mixed breed with the Bulgarian Karakachan) needed feeding, medical care and warmth. After various trips to the vet she decided to give him a chance of survival and took him in her home for fostering.
Update: 2020-07-21 – Mechko homed
Mechko was the very first of the Bansko Street Dogs, found at just a couple of weeks old – not walking, and with his eyes still closed. It was anyone's guess if he would even survive – and here we are 4 months later : he's big and strong, and just made the trip to the UK to be with his forever family! ❤️
Susan and Chris have a lot of love to give and a home with a big garden and a brook at the end of it – perfect for Mechko as he's well and truly a water baby, it's hard keeping him out of any water he sees! You guys will have lots of fun together, we wish you the best life 😁
Update 2020-10-07
Mechko was the original Bansko Street Dog that started all of this off! This amazing 7 month old boy was found on the streets of Bansko in March at around 2 weeks old, unable to walk and with eyes still closed. He was fostered in a home with another dog, and socialized lots with various dogs and people, including kids. He was taken to the UK for a couple who wanted a big dog, but the fit wasn't right and 5 weeks later Mechko was moved to a foster home.
He is currently 30kg and still growing, expect him to be around 40kg when full grown. Mechko is an absolute rock star of a dog and will only get better as he grows and learns more. He is house trained and knows lots of basic commands. He adores being in company, and is great with adults, kids and other dogs. He is fine around cats, although he can chase (he wants to play!) and his size will likely be off-putting to timid cats.He needs a home with a garden, and people to shower him with love, time and attention. He loves walking and running, and as long as he has adequate exercise daily is perfectly happy to lay around the house with you too (as you can see from the photos he loves his sleep!).

More photos of Mechko you can check in this Facebook post.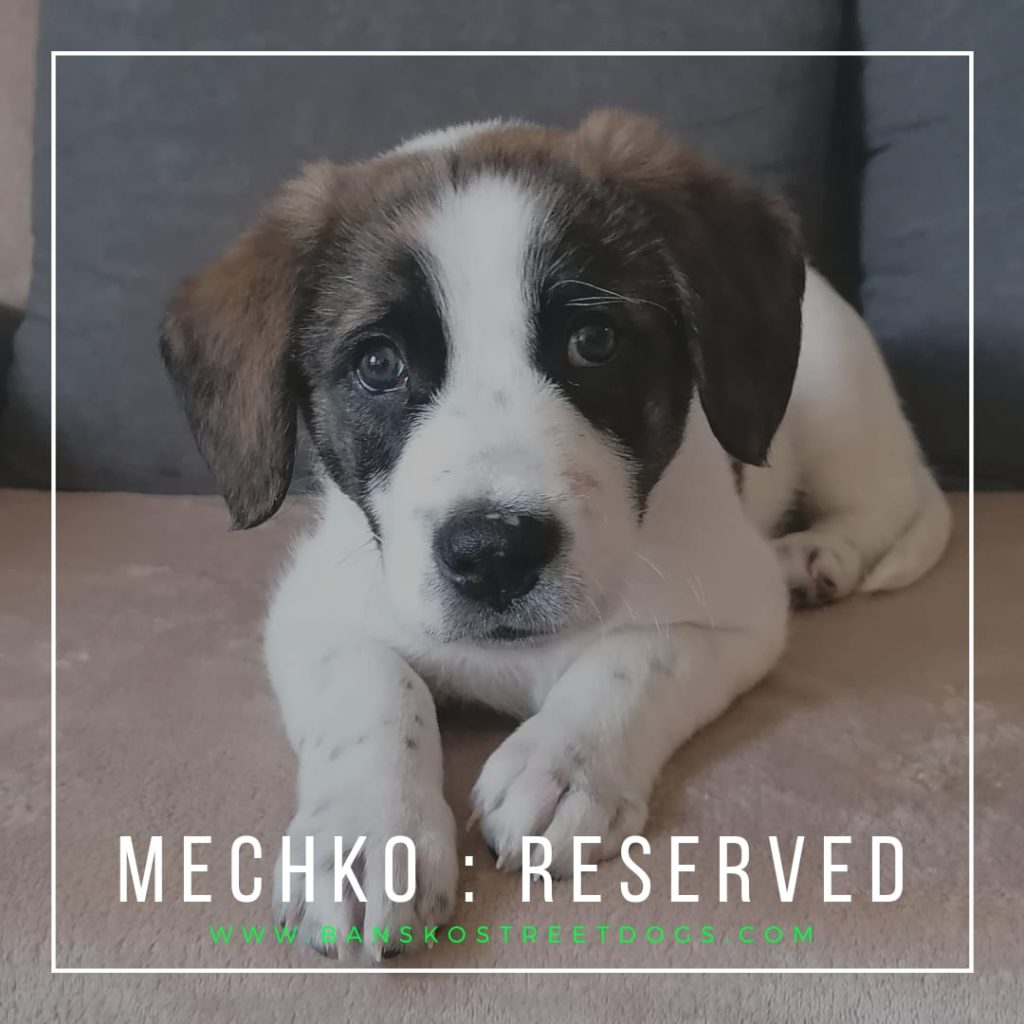 Name: Mechko

Gender: Male
Age: < 1 year old
Vaccinations & passport: Yes
Neutered: Not yet
Location: UK
OK with kids: ?
OK with other dogs: ?
OK with other cats: ?
Likes: ?
Dislikes: ?