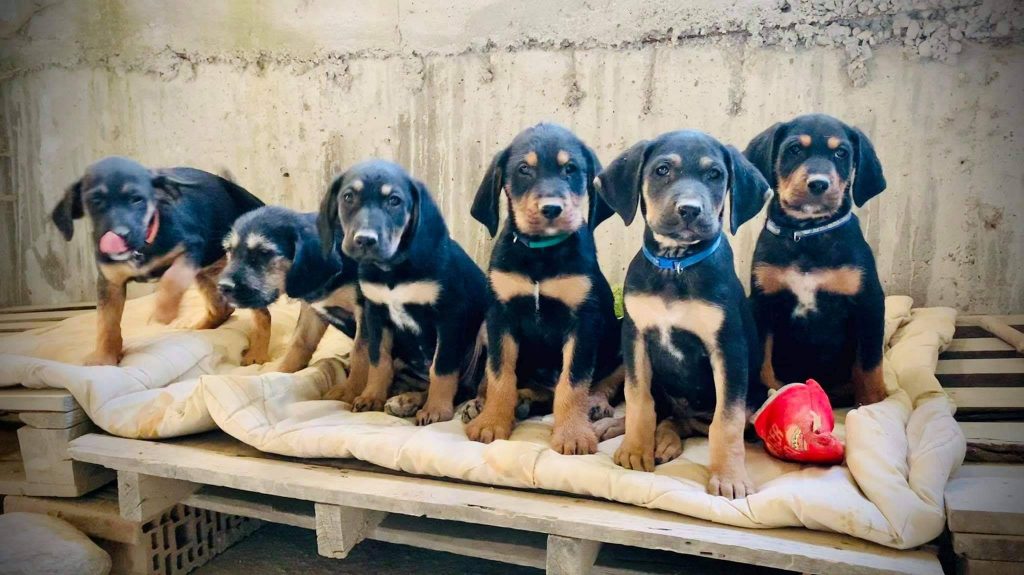 Lovely Sadie has given birth to 9 puppies on the 23th of July 2020.
The puppies will be medium sized dogs, around 25kg. They are all well, and have been started at the vet for vaccinations etc.
We are looking for foster/permanent homes for them, see updates below.
If you're interested, please get in touch
Born 23 July 2020.
2020-12-26:
Solveig (Solly) was one of Sadie's lucky puppies who travelled to the UK last month to join her forever family ❤️
She has settled in so well, and the family adore her. Solly's character is coming out more as she grows in confidence with them – and she has Dea, a sister, living right next door, so they get to visit lots! 🐾
This is why it's great that you guys help us out by sharing our posts … Families like this get to find the missing part of their lives, and these dogs don't end up just another number struggling with life on the streets … We can't thank you enough! 🙏🏼
2020-12-09:
Sadie's puppies were all crazy lucky to land in fantastic homes, and Dea is no exception! Not only does she live next door to sister Solly, she has a wonderful forever family ❤️
The Butcher family dote on this darling girl, and she's having the time of her life with them … And judging by the photo her first Christmas will be one to remember! 🎉🐾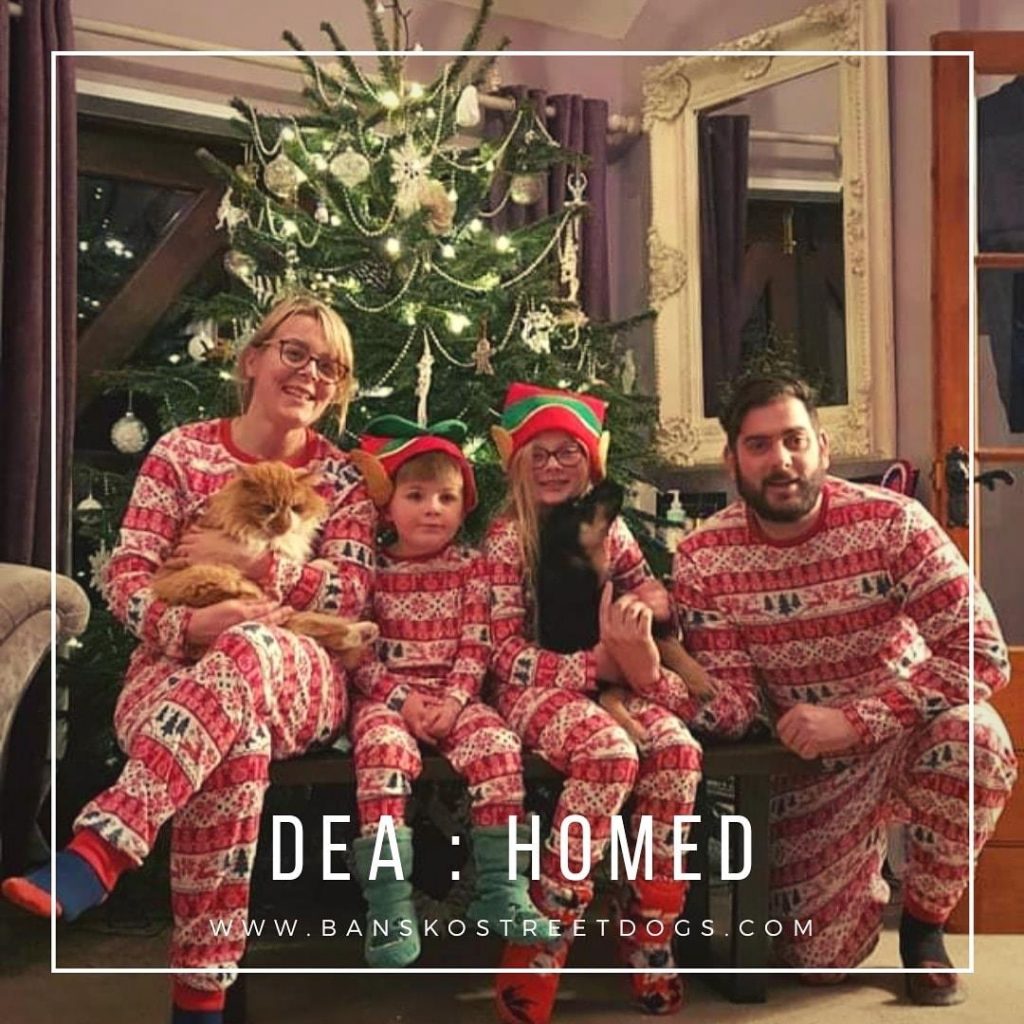 2020-12-07:
Dougall was the last of Sadie's brood of 9 to reach his forever home. He's been with his family almost a month now and settled incredibly well
This gorgeous family adore him, and Dougall is loved in a way we only dream of for all of these babies. The Sykes family are absolutely the people you are meant to spend your life with wee man, we're over the moon for you all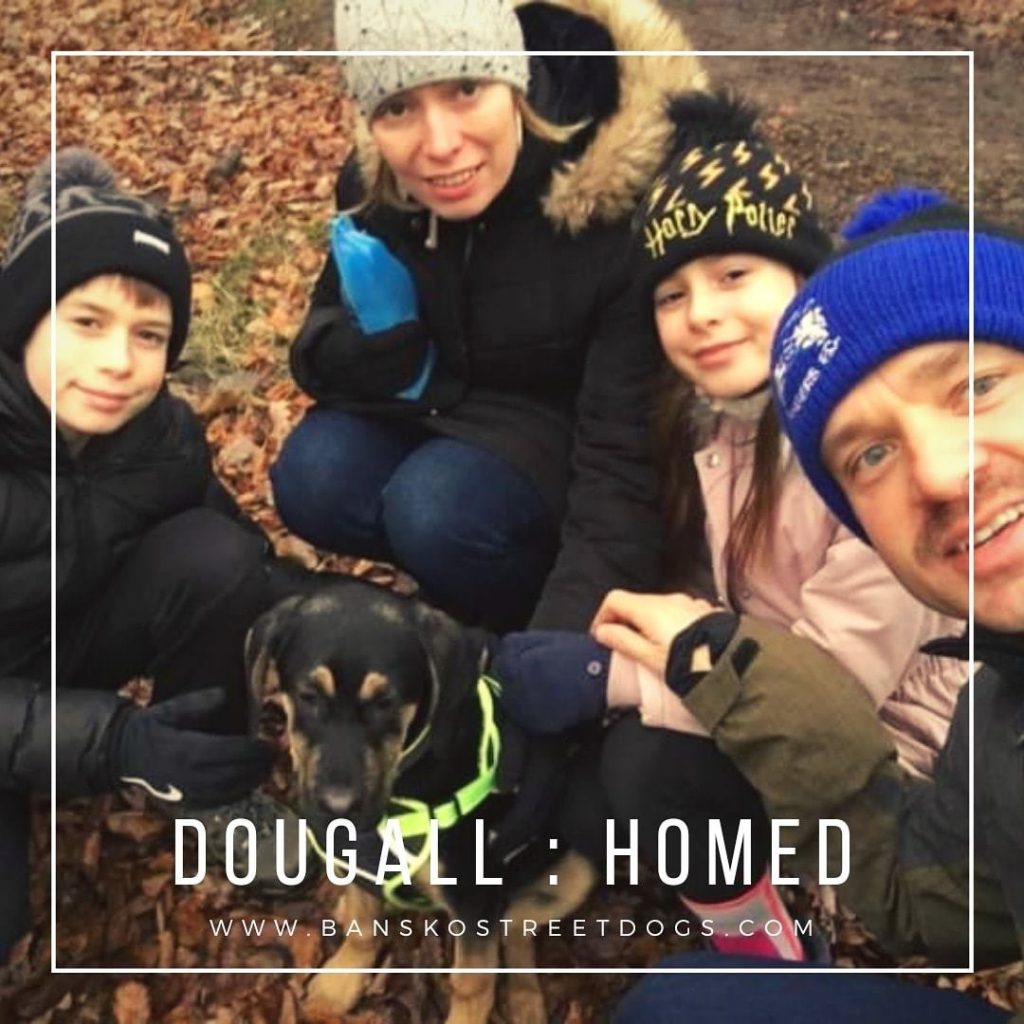 Update 2020-10-23:
Ray is the last of Sadie's boys to have his forever home confirmed … Erin and family passed their homecheck today and in just a few short weeks he'll join them in England 😁
In the meantime Ray is enjoying walktimes with his siblings … this litter are all smart, and will be easily trained into super fantastic companions! 🐾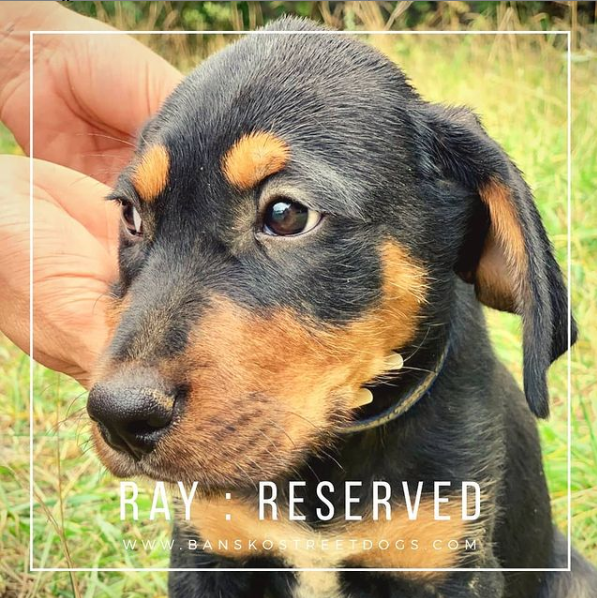 Update 2020-09-12:
Huge thanks to everyone that has stepped up to help these little darlings!!
Mary (female) was named by our guardian angel ladies (who also dropped more food by for the doggies!).
Cassie (female) is feeling the love from Eileen and Tony Murray.
Katie Hunter is the youngest of our sponsors (ever!) who kindly jumped in to help Dougall (male).
The lovely Ada (female) has been looked after by one of our regular supporters, Eileen Carr.
Деана Христова is helping us to take care of Dea (female).
Bailey (female) caught the eyes of volunteers Becky & Rod who couldn't help themselves.
Maurizio and Daria Savino were the first to offer to help, and lucky Ray (male) is the puppy they named.
Buddy (male) was the last of the puppies to be named, Марина Федосеева and her husband had disagreements about what name suited him!
And the final shout out is to Emma Lundquist for naming beautiful girl Solveig (female)
You have all given these little babies a great start, thanks to you not only do they have names but they will have all the vaccines they need to keep them healthy, and passports and chips so they're ready to go to their new homes in just a couple of short months!
Update 2020-10-01: Cassie & Mary Reserved
Mary and Cassie were the first of Sadie's puppies to be reserved … they're heading off to the UK next month to live with families right next door to each other! ❤️
They are 10 weeks old so part way through the necessary vaccines and paperwork … in the meantime they're having great fun learning lots of new things, and playing as only puppies can! 🐾
Update 2020-10-03: They just get cuter by the day!
Update 2020-10-06: Dea & Solveig reserved
These two darling girls are going to homes in the UK where they will be next door neighbors! Both of their families passed their home checks today with flying colors, so now it's just a countdown until they are allowed to travel next month
Update 2020-10-08: Dougall Reserved
Dougall is the first boy of Sadie's puppies to be reserved, and he'll be heading off to the UK next month to live with a lovely family!
Update 2020-10-10: Bailey Reserved
Homechecks are going well and Sadie's puppies are getting all of the attention at the minute … Bailey has been reserved to go and live with a lovely family in the UK. He's got a great house near to where I grew up, and is going to have so much fun in the fields and rivers all around them, what a lucky boy!
Thanks for reading and sharing our posts – there's so much interest in these dogs because you make sure plenty of people are seeing them, it's wonderful to have homes ready for almost the full litter already!
Update 2020-10-19: Buddy Reserved
Out of the 9 puppies Buddy is most like their mamma – so much so we call him 'little Sadie'
He's a lucky boy whose family passed their homecheck this weekend, so very soon he'll be travelling across to the UK to get settled in – before winter really sets in here, so it's perfect timing